Face your art 2020! This is the first time I've participated in these social media challenges. Putting this together I definitely see improvements. As artists we want to be proud of our work but also stay humble. Me personally I can list off things I like about each artwork but I also want to keep an open mind and know that there's always things I could improve on. Of course! With more practice and improvement I already know I will be looking back and thinking "this could've been better", But progression is always good to see! 🙌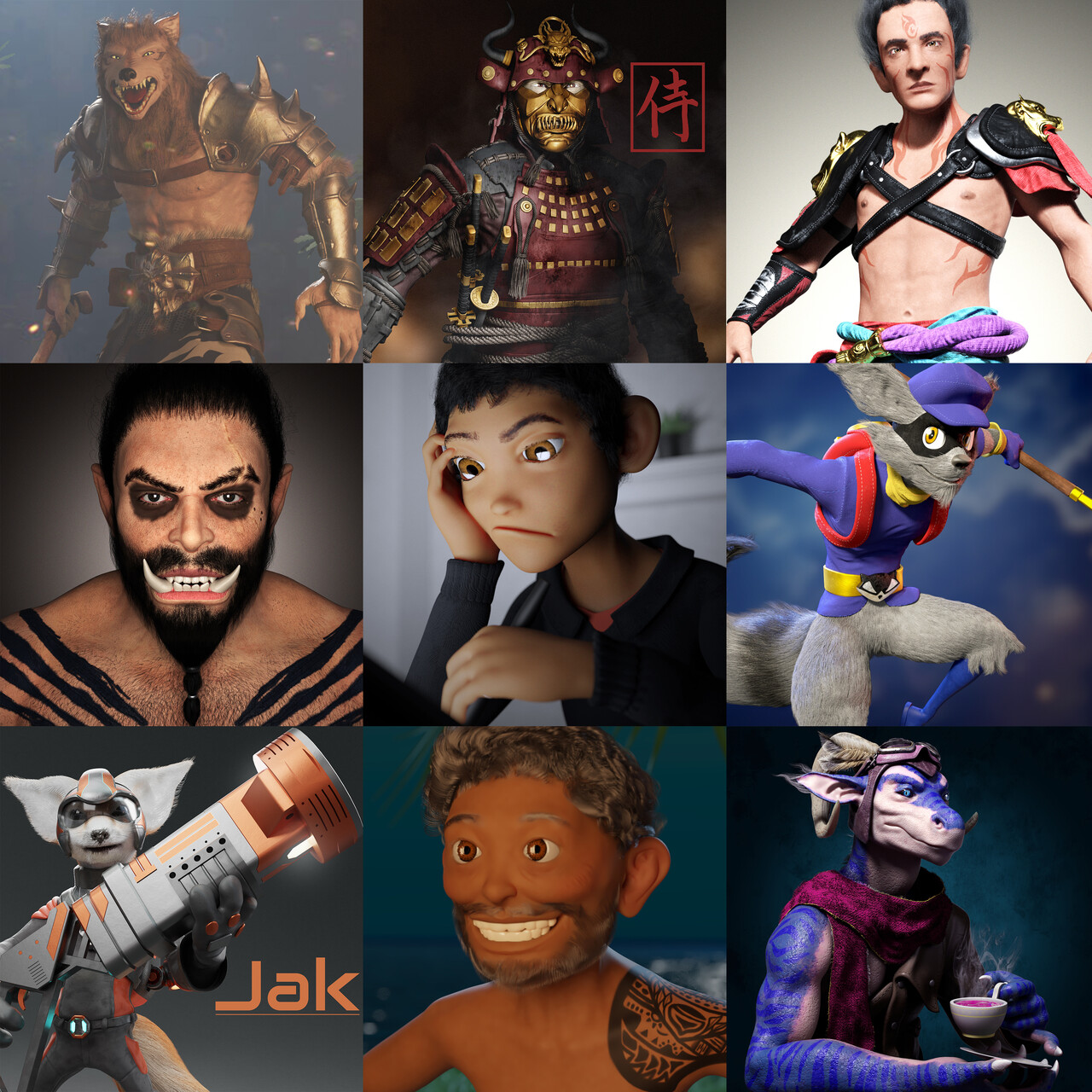 Renders:
Top left corner: "Werewolf"  This was a game character based off of Akpen1's "wolf" concept on artstation. 
Top middle: "Warriors Way". I was inspired by the Ghost of Tsushima game, which I've beaten. I haven't been so excited about a game since the first AC. :)  It's an amazing game! 
Top right corner: "Ne Zha".  This one is a tribute to Ne Zha. The Chinese deity of protection. After watching the 3d animated film on Netflix it inspired me to create my rendition of him. 
Middle left : "Chieftan Drogo". 😀 This one is a bit silly. It is a mashup of Kal Drogo from GOT and an orc creature. Which I titled Chieftan Drogo. Some people though it was a nightmare. 😀 I like this one because I was seeing improvement on my skin detailing and was getting close to photo-realism. 
Middle: "The Thinker" I had done this character as a sample for my skills in developing disney-esque styles. This image was the result of a personality test I had taken and my results was thinker. 
Middle right: "Sly Cooper". This was a fan art I had done to improve my sculpting skills. I had done the whole Sly Cooper gang to see how fast I could sculpt a character in ZBrush. These were also used as an opportunity to get more familiar with substance painter which as officially became part of my pipeline. 
Bottom left corner: "Jak". Jak is a fennec fox character I had done for the xp-pen challenge from instagram judged by Raf Grassetti. This was a fun project and there were some amazing submissions to this challenge!
Bottom middle: "Sakau" This render was another sample work but I really loved the theme in this one. As a pacific islander I though it was about time I do something based off of my culture. The shot here depicts an islander sitting in a hut next to a beach with friends drinking a popular drink in the pacific culture known as "Kava". 
Bottom right corner: "Tea Time". 😀 I love this one! This was based off of Taran Fiddler's "Tea Time" concept/illustration I came across on artstation. I enjoyed the design of this character so I wanted to challenge myself and recreate it in 3D. Check out Taran's work! Inspiring stuff!